Bamboo car gives 'green' rides through Hội An
HOAI NAM/VNS |
(QNO) - Having succeeded with a bamboo bicycle design and production, local craftsman Võ Tấn Tân is now keen on producing the first ever bamboo electric car.
It has everything to do with his passion for bamboo and making a greener Hội An city.
The first bamboo battery-powered car came after a three-month course in a workshop in Cẩm Thanh Village – an eco-tour site – near Hội An City.
Handcrafted: Tourists practise bamboo crafts at a shop in Cẩm Thanh village, near Hội An city. The shop offers a two-hour course for visitors on how to make bamboo souvenirs.
The idea came about from an order for developing a bamboo cart for use at a golf course, and Tân revved up the designing and production at his bamboo shop.
"It is a very new idea after a successful design of a bamboo bicycle a few years ago. Almost 70 per cent of the electric car was replaced by bamboo pieces and panel from the seat, steering wheel and the car's body," Tân said.
He said the car's structure was still safe for travel even with a bamboo decoration.
"It is really a face-lift of a battery-powered car. Tourists can travel smoothly on it at a golf course or at a resort. The car creates an environment-friendly appearance and has an extraordinary design."
The bamboo car made its debut at his shop and it has been undergoing driving tests for the perfect introduction of a series cars in the future, according to Tân.
"I sweated it out with the idea on how to change it with a bamboo design. It is like a modification of a model of a limousine that we can see in car designing. I spent a lot of time at the shop in creating pieces of bamboo in the shape of the car's accessories," the craftsman recalled.
"I had to cut and trim bamboo tubes into accurate pieces that can replace plastic, rubber and steel panels. Bamboo is not as soft as rubber and plastic, and it needs perfect carpentry skills."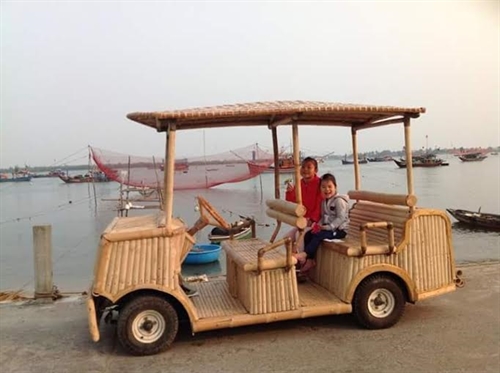 Bamboo boost: A bamboo car is developed from a battery-powered cart. The car designer and producer, Võ Tấn Tân, spent three months building the electric car into an environmentally-friendly vehicle. Photos courtesy of Võ Tấn Tân
The five-seater car, which was developed from an electric car being used at the golf course, had a smooth road-test over bridges and country road.
The plastic roof of the car was replaced by weaved bamboo laths with weather-proof paint for prolonged use, while engine, space under and the steel structure are unchanged.
Tân has not yet revealed the price of the car, but he spent over VNĐ100 million (US$4,400) for the material and design as well as the working time within three months, he said.
The bicycles are made from species of thorny bamboo – a very hard and strong bamboo from Quảng Nam Province – that was used in bamboo bicycle production at the shop.
Tân, who studied to be an electrical engineer, but has been producing bamboo furniture because that is the family business as well as traditional trade of Cẩm Thanh Village, his native place.
He had retired from a job at a resort in Hội An to follow his passion for bamboo-making, and the car is his most difficult production.
"The car has more accessories and parts than the bicycle. We can produce seven or 10 bamboo bicycles with a group of craftsmen in the village, but the bamboo car would take us longer time to produce along with the preparation of material and funds as well as orders from customers," Tân explained.
He stressed that the mass production of the bamboo car does not mean profit, but encourages awareness of a greener world.
"Hội An is a favourite tourism hub in central Việt Nam. The bicycle is seen as one of the environment-friendly vehicles among locals and tourists with short-distance travel to the old quarters and the beaches nearby," he said.
He hoped that the production would improve and craftsmen in the village could earn more from the old trade.
Bamboo and products from nipa palm leaf have been more popular in Cẩm Thanh along with homestays and eco-tour services in the forest of nipa palm.
"We have been calling for more investors to join in mass producing bamboo cars for domestic use and for export."
Tân also offered tour services with kayaking in nipa palm forest and bamboo bicycles tours and a craft tour with bamboo furniture practice at his workshop.
Bamboo crafts
The Cẩm Thanh village-born has operated a bamboo craft tour at his own workshop – the Taboo Bamboo – in Tam Thanh Đông Hamlet, where he teaches guests traditional craft.
He said tourists could take classes and learn how to make bamboo souvenirs.
"We show them all the stages of making bamboo toys and souvenirs. They can select different models they want to make from VNĐ150,000 ($7) to VNĐ300,000 ($14)," Tân said.
Tân said he had a display of bamboo products and tools for tourists to use at his house, and guests could take home their creations after the tour.
Tourists can visit the village by bicycle on a 5km ride from Hoi An to Thanh Tam Đông Hamlet in Cẩm Thanh.
"You can spend two hours at craft practice and can make an item by yourself. Children can do it with their parents during the tour here. We also offer kayak services in the nipa palm forest after working at a bamboo workshop, or riding around the village on made-in-Cẩm Thanh bamboo-bicycle," he offered.  
He said the bamboo car needs time to be tested and be registered by the transport authority for travelling on the road, but tourists can view it and take a short drive in a garden or the resort's park.
The introduction of a series of bamboo-made green vehicle in the village has been trailing with the call from Hội An authorities in an effort to build it as the first eco-city in Việt Nam.
Also known as an ancient town, Hội An became the first locality in the country to host a Car Free Day. It has been lauded for its efforts to stop the use of plastic bags and for its 3R (reduce, reuse and recycle) programme, and a solar-powered public lighting system in Hoài River Square.
Local residents and tourists have been encouraged to use more environment-friendly vehicles, such as bicycles and battery-powered bicycles, and to walk as they carry out their daily activities in order to keep the city clean and healthy.
The city has gradually limited the use of motorcycles in the old quarters and they are only permitted for use at lunch time.
The bicycle has been selected as the favourite vehicle for tourists visiting landmarks in the city, suburbs and beaches.
HOAI NAM/VNS